In one of India's oldest coalfields, there is suffering and general discontent, irrespective of whether the mines are operational or not
The roads in Topsi are black with coal dust and a few men can be seen dragging their bicycles loaded with sacks of coal. As we enter this village in the Jamuria sub-division of Paschim Bardhaman district in West Bengal, we see children playing outside the huts and their mothers mixing coal dust and cow dung to make cooking fuel. There is barely any vegetation in sight. Even the village pond is covered in coal dust, though Topsi Coal Mine has been dysfunctional for the last five years.
Welcome to the country's first and oldest coal mining region, a part of Raniganj Coalfield that has been producing coal for nearly two centuries.
Daily wage labourer Chandana Bauri (right) could easily find work when the coal mine was functional. "We had multiple jobs. We can be domestic helps in company quarters or offices, or work in the cooking and cleaning sections of hotels and restaurants," says Chandana, who is in her 50s.
In her 60s, Rekha Bauri works in a brick kiln. For many years, she was a contractual worker under the labour officer of Girijapara coal washery. "I used to wash and load coal in trucks and clean up the area but was paid erratically for my hard work. I was not paid at all for the last year of my work. In the last few days before the washery shutdown, the labour officer assured me of payment, but he just vanished. I feel angry and exploited."
Researchers from the Just Transition Research Centre, IIT-Kanpur said women are easily exploited in these coal regions as they are not counted in the workforce and there is no union raising their concerns since everything is led by men.
Debashish Ruidas says the management shifted a few workers to another mine, but most of the villagers were left jobless. "Some took up menial jobs, while some are still searching for work. Helpless families even collect coal pieces from the closed mines to sell in the market."
This is the house of Srijan Ruidas. After over two decades of contractual labour, he lost his job at Bedbad colliery four months ago. His son Vishal Ruidas (19) says, "He was earning only Rs 120 a day, but he would still go every day and do the work, wherever he got it. Yet, his contractor fired him saying he was not punctual. It was very strange!" Srijan now earns Rs 250 per day as a construction labourer. Sometimes Vishal skips
school, where he is now in the final year,
to work in a cable factory. "I do not wish to end up in a colliery. I want to study and get a job."
Around 3 km from Topsi is Kunustoria Colliery, one of the 14 operational areas of Eastern Coalfields Limited (ECL) in Asansol sub-division of Paschim Bardhaman district. The infrastructure here is better —
pucca
roads, quarters for coal workers, a trade union office manned by the Koyla Khadan Shramik Congress and even a mini stadium named Pargati Stadium. However, people say not all is well.
Mohammed Imtiyaz Khan works as a safety supervisor and production assistant. His responsibility is to take workers to the mine site and bring them back safely to the village. Kunustoria Colliery still relies on old methods — blasting the coal bed and manually transferring coal into trucks using carts. "It is a risky job as workers have to go at least 125 m underground. We work here only because it is a government job with
good pay."
When Khan joined in 2002, the colliery had around 2,500 full-time workers. Now, there are only 800. For permanent workers, the pay ranges from
Rs 15,000 to Rs 60,000 per month depending on the designation and experience.
"Swollen lungs are quite common among underground mine workers. Unfortunately, medical facilities and health checkups are inadequate. We need first-aid kits, reflective jackets and dust-protection masks, besides other safety equipment," Mohammed Imtiyaz Khan says. On paper, this settlement has a big water filter plant to supply drinking water to around two lakh people. In reality, people
travel
4 km to fetch water from a public tap, says security guard Mohammad Mumtaz. "There is no tap connection here. The well remains covered in coal dust."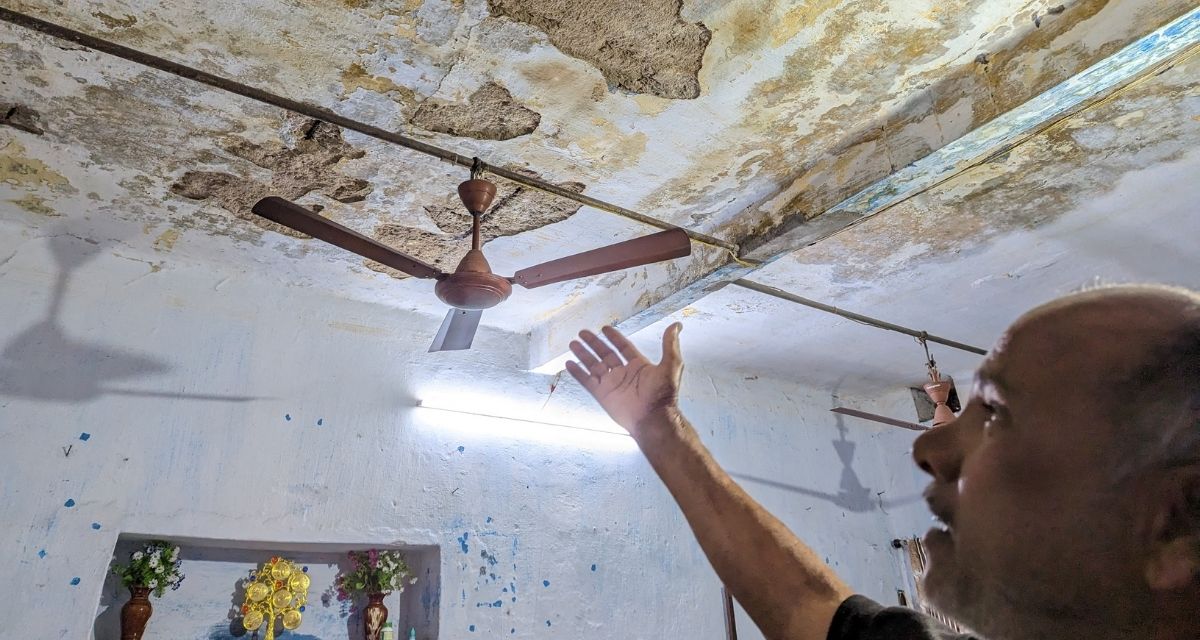 Mohammad Kamal Ahmed's father moved to Kunustoria from Uttar Pradesh in 1967 to work as a coal loader. When he retired in 2000, Ahmed sold 1.5 acres of land to the coal company and in exchange got a permanent job in the tender department. His home in the company quarters is in shambles. "Every house given by the ECL is of poor quality. The walls, ceiling and roof make me feel like they will collapse anytime. There are cracks and leaks. The doors and windows are broken. We have fixed them temporarily by spending our money as the company does not respond to our complaints."
Chotelal Rajbhar and Jaiprakash Gupta have been working in underground mines for over three decades. Their fathers and grandfathers did the same work. But Rajbhar's son works in a Bengaluru-based MNC after completing his MBA, while Gupta's son is preparing for GMAT and one of his daughters is pursuing General Nursing and Midwifery. "This government job
pays well
but working in coal mines, whether underground or not, involves risk factors," says Gupta. His colleague Sheikh Amir Ullah agrees. "The major issue in working underground
is that oxygen levels there are very low and often drop to 70% of normal. On top of that, w
e cover our noses tightly with
gamchas
(cloth towels) to avoid inhaling coal dust. And when we come out, we eat a cube of jaggery to release toxic dust and dirt from our bodies."
Kishore Nonia is 55 and partially paralysed. He inherited his mine job and did all kinds of work for over three decades — dragging a tram to transport coal to roasting furnaces or bins, pushing carts, drilling in underground mines, cutting up large chunks of coal and loading them into trucks. He did not realise when exactly his health started deteriorating. "Initially, it was just high blood pressure, fever, cold and breathing difficulties. I was administered some medications at a nearby hospital, after which my body began to tremble. Suddenly I was not able to move my right side. I was bedridden for a year," recalls Nonia, who believes he was misdiagnosed. When he was ill, his wife took up temporary work involving coal loading and unloading in the surface mine. "The company did not fire me but shifted me to the surface mine. Now I sprinkle water to settle coal dust, work in the garden, and maintain a log of coal-loaded trucks."
All photos by Purnima Sah, 101Reporters
The story was produced as part of the Net Zero and Just Energy Transition workshop organised by the Earth Journalism Network